Inside Our Montecito Shop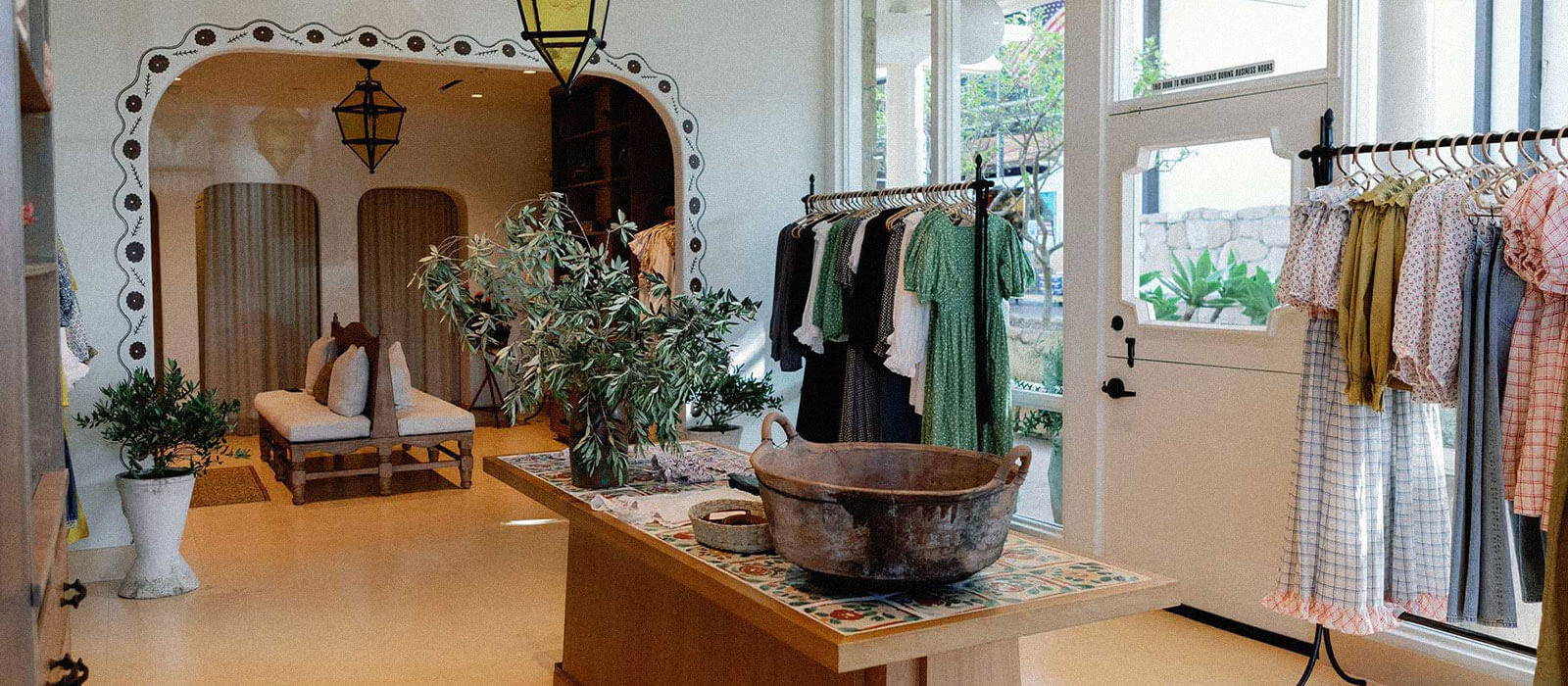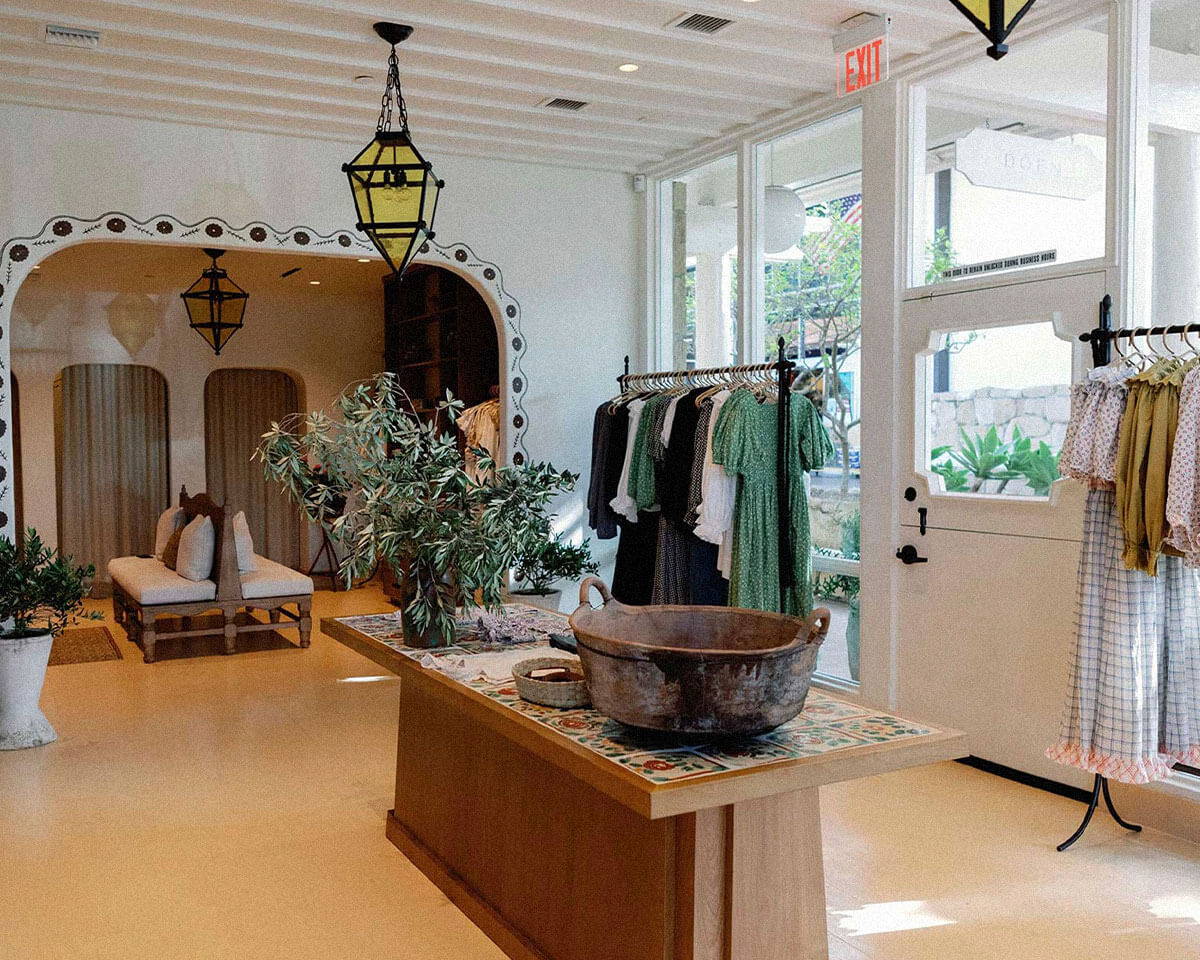 The hills of Santa Barbara are – in so many ways – the birthplace of all that is DÔEN; the hometown of our co-founders, Margaret and Katherine, the inspiration behind so many of our designs and our aesthetic core. From our very first shoot in the sprawling landscape of Santa Ynez to our first-ever magazine feature in Santa Barbara Magazine in 2016 — Santa Barbara and its surrounding areas have played an integral role in our journey from the earliest of days. It follows, then, that opening up shop in the beloved Montecito Country Mart feels like a homecoming — made all the sweeter by the community of people that helped us bring this dream to life.
Designed in collaboration with our friend and creative partner, Amy Kehoe, this shop feels like a world of its own… inspired by the far-away feeling of the lush and vibrant little stretch of coast that encompasses Montecito and Santa Barbara. Read on for some notes from Amy on the design intention and process, and for a few local favorites in case you find yourself in the mood for a little road trip up PCH.
Our Montecito Country Mart location is now open 7 days a week!
Mon - Sat 10am-6pm, Sun 11am-5pm
1014 Coast Village Road Suite C, Santa Barabara, CA
877-756-7353
In Conversation with Amy Kehoe
Tell us a bit about your approach as a designer.
Experience is the biggest driver of my design approach: whether it's where I've traveled, what show I've seen, what "new" old designer I've read up on, what museum, estate, or garden tour I've done, what book I've gotten my hands on…the list goes on. What I've continued to learn the longer I've done this is that there is so much inspiration and beauty to be discovered, and staying open to new influences is one of the most important keys to creativity.
What influenced and inspired you throughout the process of designing the Montecito shop?
Katherine and Margaret's being from Santa Barbara was the significant starting point; the beauty of Santa Barbara seems embedded in them both and how they see the world. I felt inspired to have the new shop speak more directly to the surroundings — the Spanish influences of the local architecture, but also the mid-century nostalgia of the Montecito Country Mart. I liked the idea of these two styles coming together to create something interesting and fresh. I also looked through many of the DÔEN photo shoots across the globe — from haciendas and chateaus to country and seaside settings — and embraced those influences, too, as muses for the design.
From there, finding moments for quiet details that could define the space yet let the clothing stand out was important. The textured plaster walls versus smooth drywall, Rebekah Miles' hand-painted border, and tiles on the table are all my interpretations of how DÔEN details their collections — unique, timeless with a sense of heirloom, while also feeling right for the modern woman.
Can you share a few of your favorite details in the shop?
The antique tiled top table, the plaster dove sconces, the iron hanging racks, Rebecca's custom mural…is that too many?
What feelings and experiences were you hoping to evoke through your design? Was there a particular story you were hoping to tell?
All of us — Katherine, Margaret, and I — wanted to capture the same comfortable "embrace" the Brentwood shop has. A feeling of being welcomed just by the space alone as well as a feeling of being slightly transported by the materials and palette, much in the same way that the brand's many on-location shoots manage to transport all of us to whole other worlds, yet, somehow, make us all feel like we belong there.
Over the last few months you have been in Montecito often — did you discover any new favorites?
Though not a discovery, if you haven't been to Lotusland it is a must. I did discover a new beach for me — it's no secret — but loved it so much, Loon Point Beach. I always love grabbing lunch at Pierre Lafond's Deli.
A few of the local favorites that we return to again and again…
LOTUSLAND
The most spectacular historic gardens that never fail to amaze us. We recommend the guided tours to learn more about the rich and fascinating story behind it!
SANTA BARBARA BOTANIC GARDEN
A wonderland of California natives.
JALAMA STATE BEACH
The beach where we shot our very first campaign. We love to camp here, though it makes for a great beach day as well.
BUTTERFLY BEACH
An easy drive from the Country Mart and perfect for a casual beach afternoon.
MERCI MONTECITO
The perfect stop for a quick coffee or morning treat.
BETTINA
Wood-fired pizza, right around the corner from our little shop!
PIERRE LAFOND
An old school market and deli, great for grabbing sandwiches for a picnic lunch.
ROSEWOOD MIRAMAR
We love stopping by for sunset drinks.
BELMOND ENCANTO
Tucked into the Santa Barbara Hills, it's special place to stay for a night away.
GARDE
Local ceramics and minimalist German and Belgian furniture are artfully displayed in this 1920s Shaker-style barn.
SAN YSIDRO RANCH
Romantic cottages cloaked in ivy give this charming inn plenty of fairy-tale charm.
HELENA AVENUE BAKERY
Ricotta toast, flaky biscuits with jam and delicious sandwiches make this a one-stop-shop for beach picnics.