Like Mother, Like Daughter
Fashion has always played an integral role in Vanity Fair editor Kia Goosby's life—from playing dress-up as a child to dabbling in modeling to pursuing a master's degree at SCAD and landing her first internship at Elle. It's an interest she shares with her mother, Linda—whom she counts as a close confidante and a source of inspiration. We spent an afternoon in Atlanta with the mother-daughter duo to chat about their relationship—and the rituals around getting dressed.
Tell us a bit about your mother-daughter dynamic. What do you value most about your relationship?
Kia: My mother and I are extremely close. She is my rock, and I wouldn't have made it this far in life without her love and support. It has always just been me and her. Over the years, I've cherished our relationship, which has grown in different ways. I am very clear that my mom is not my friend, because her position as my mother means so much more, but our relationship could be viewed like we are close friends because we enjoy our time together.
Linda: We have an awesome relationship that is very precious to both of us, anchored in love. The mutual respect that we have for each other is outstanding.
What are some of your earliest memories surrounding fashion and watching your mom get dressed?
Kia: There are key pieces that stand out in my mind when I think of how she would get dressed for work. She always wore a suit—sometimes a skirt, sometimes pants. She styled it with a crisp blouse, and always accessorized with a pearl necklace.
On weekends, she would wear a great pair of jeans—sometimes with a blouse if we were off to an event, or sometimes with a classic crewneck shirt or sweater.
How would you describe your personal style, or your relationship to fashion and getting dressed in general?
Kia: As I get older, I strive to remain both chic and comfortable. I rely on classic silhouettes and pieces that can take me through the years, avoiding oversaturated trends. I am very much a jeans and T-shirt kind of girl, but I also love putting on a great dress.
Linda: I have always dressed in a conservative, classic style. I love the ease of wearing good-quality pieces.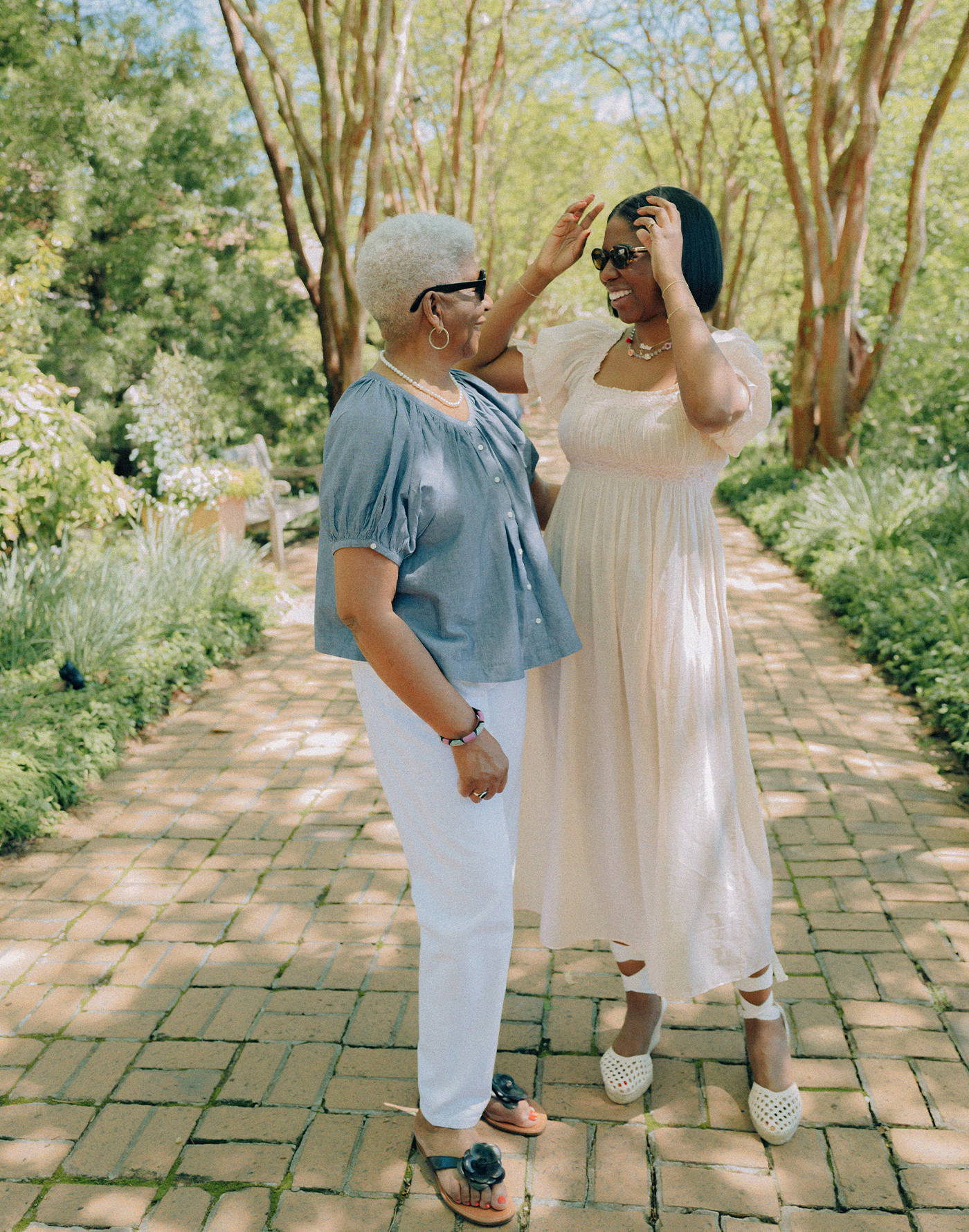 Growing up, who were some of your style icons?
Linda: Jackie Kennedy and Diahann Carroll come to mind when I think of fashion icons of my era. I have always loved their styles. Both were effortless in the way they dressed—they very much represented the times we lived in.
Is there a piece from the other's closet that you covet?
Kia: My mom has a great collection of oversized blouses, and a houndstooth blazer that I really love.
Linda: I love Kia's slip dress collection. She wears them well—it reminds me of how I enjoyed wearing a similar style in the '90s.
"My mother is my rock—I wouldn't have made it this far in life without her love and support. Over the years, I've cherished our relationship, which has grown in different ways."